On this page, we have linked to various resources that may help in your line-drying journey. These are resources that our team has found through searches online. It is not an exhaustive list. We are not endorsing any particular type of clothesline or a specific brand. This is just a place to begin.  
Different types of clotheslines:
Where can you buy clotheslines in Canada?
Any hardware store (e.g., Canadian Tire, Home Depot, Rona, Lee Valley) has clotheslines and drying racks for sale. Search the "Clotheslines and Accessories" or "Laundry Storage and Organization" sections of their websites.
Videos on how to install or make your own clothesline:
Clothes Pegs
Don't forget to buy clothes pegs (sometimes called clothes pins) for outdoor hanging. Using clothes pegs can also be a useful way to get more on your drying rack indoors too!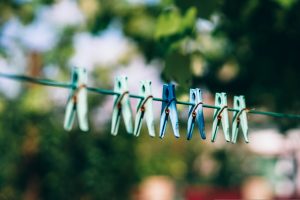 Line drying tips
Laying it on the line: how to air-dry your clothes in all weather conditions - The Guardian